Download and Installation
You can download the latest version on the official website, or click the link below to download it.
After downloading, double-click the .exe file and follow the instruction to install D5 Converter-ARCHICAD.
Supported versions: ARCHICAD 21 to ARCHICAD24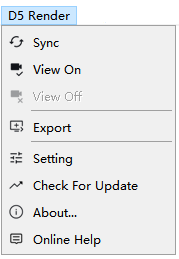 Sync
Before using the synchronization feature

, make sure that D5 Render is started.
When D5 Render has an empty scene, create a model directly in the scene.
When there are existing model files in D5 Render, the first time you synchronize, you need to establish a connection between the synchronized models and the existing models in the resource list.



View synchronization

Turn on View Sync, the current view of ARCHICAD is synchronized with the view of D5 Render

Turn off View Sync, disconnect view sync from ARCHICAD and D5 Render


Export d5a

Export. d5a file
Setting
Manage the location of the mapping storage for .pla or .pln model files by setting

If not set, the default storage location is the path to the .pla or .pln model file